PATHOS at the exhibition Planet Digital
02-03-2022 – Our Outreach project PATHOS is participating in the current exhibition Planet Digital at the Museum für Gestaltung in Zurich. The exhibition is about the state of digitization and puts our digital present and future under the microscope.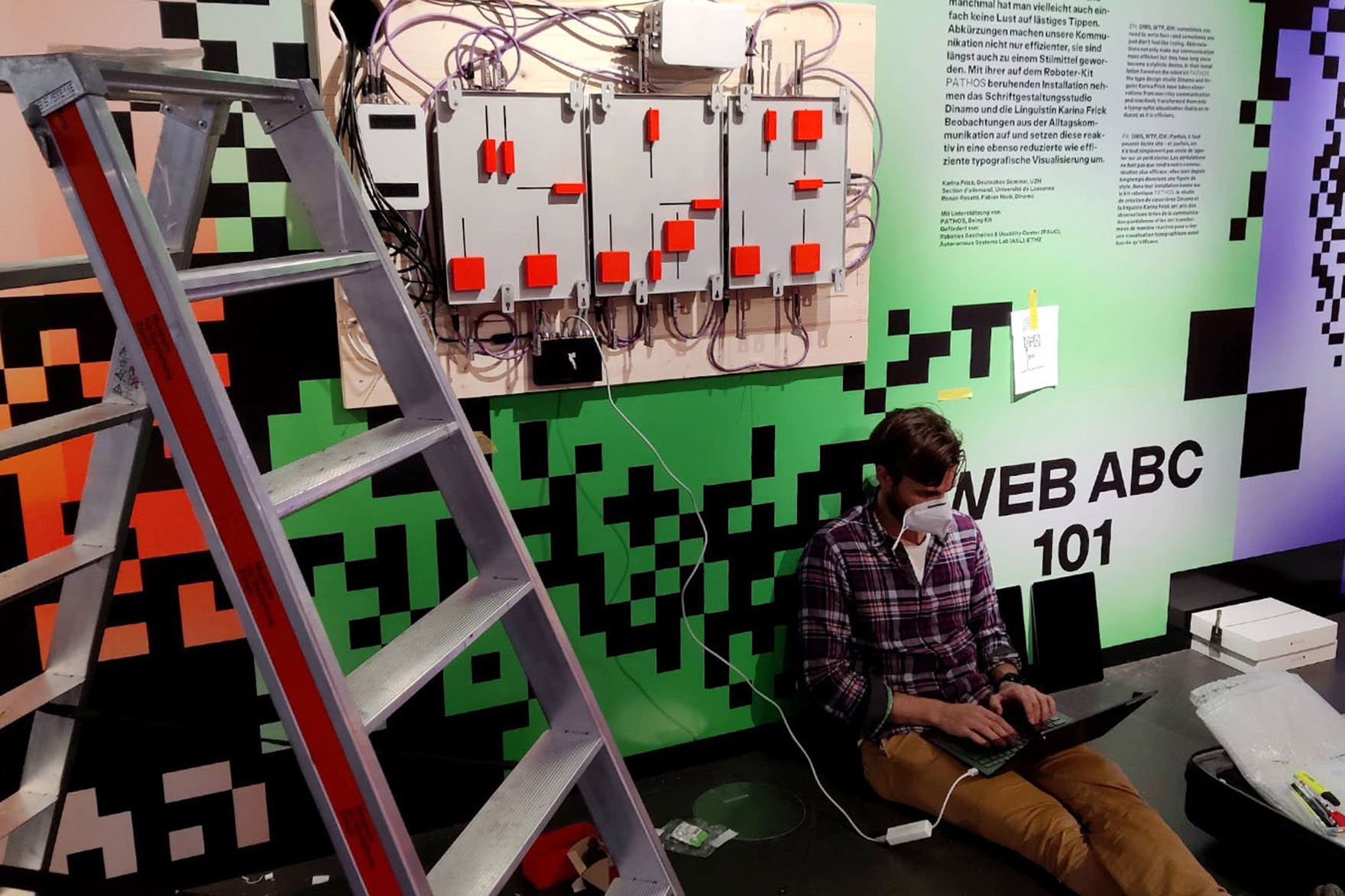 Organized by the University of Zurich and the Museum für Gestaltung Zürich in collaboration with the Zurich University of the Arts and the Zurich University of Applied Sciences, featuring their most creative minds. PATHOS is one of 23 research projects in the exhibition that takes the public along on a sightseeing tour of the world of digitalization.
An interview with Aparna Rao of the Indo­-Danish artist duo Pors & Rao, who initiated PATHOS
What exhibits are we going to see from you at the exhibition?
We have a series of three presentations: The first is a vitrine that traces the historical development of PATHOS. Specifically, the first Robotic Kit for non-engineers, that was conceived in an artwork, Crowd, in our studio in India, and which was developed over a long gestation period into the Being Kit, in collaboration with Wyss Zurich and ETH Zurich. The aim is to highlight the unique, demanding needs for physical animation, including all the people and environments that have contributed over the years. The other two exhibits are PATHOS demonstrators. The first is an abstraction of underwater creatures, developed by industrial designers Léa Peryeyre, a RAUC team member, and Claire Pondard, that use simple, imaginative flat paper structures to move organically and respond to the proximity of people. The more recent one is a collaboration with ace Basel typographers Dinamo, who are developing the variable type PATHOS font, with a first experiment on showcase.
When did you initiate PATHOS, and how did it come about?
PATHOS informally began somewhere between 2002 and 2004, when I met Søren Pors, my Danish art collaborator (also currently the Artistic Director of PATHOS/ the RAUC), during our master's studies in Italy. As visual arts practitioners, we were simply responding to the sudden digitization of the world as we knew it; and felt an irrational, personal urge to reclaim its physical, historical continuity. At the same time, alongside our program, we were exposed to new fields such as physical computing, tangible media, and haptics. We quickly began to appropriate them into our private experiments using motion and response; to evoke a sense of a being in a real space. The struggles we faced with robotics technologies over the nearly two decades since it's the driving force behind PATHOS. (A four-minute video that captures this journey can be found here.)
The key element of PATHOS is the toolkit. Can you tell us more about it?
The blueprint of PATHOS contains several toolkits, much like a kind of Lego system with mechanical devices, sensors, and a browser-based control interface. The main aim is to enable an affective language of motion and response, through robotic animation, that can open up new possibilities for visual culture and art practice. The three main touchstones are (a) Aesthetics, the visual expression of motion patterns and shaping technology into a visual medium; (b) Sentience, which approaches physical movement and nuanced behaviors as a means of communication and convey about the inner state of a being; and (c) Usability, in which the medium is potentially democratized by putting complex technologies into the hands of non-engineers in friendly and intuitive ways.
With this toolkit, you enable other artists to create artwork through motion. Did you ever imagine that your work would expand so broadly and generate artworks in so many different fields?
Not at all. Our first goal was always simply to survive this medium outselves; the quality of our life and practice profoundly depended on it. We were also very naive, blind to the limitations of robotics technology for personalization. Over the years, it became clear that this is an unexplored area of research and development, which makes it relevant not just to other visual artists, but also to discussions around access and social exclusion; the need for an interface for the rapid automation of our physical worlds, technology innovation and education. So in a way, it is very satisfying to see all that pain that we experienced along this technology detour channeled into a meaningful endeavor, which benefits others as well.
Does the toolkit today look the same as when you started PATHOS?
PATHOS is a work in constant progress. While the mission and vision have not changed significantly, we have a better idea of the problems that need to be solved and of how we can improve and simplify the kit and its experience. The first Being Kit, based on the Faulhaber motor, is very new; an early version came out in 2020 and is undergoing constant improvements. We are a very small team and resource-constrained; so much is still in our heads and on paper, although we have made rapid progress in investigating the kit's potential.
There will be a workshop you are involved in, hosted on May 6 and 7, 2022. This workshop is in collaboration with the Swiss type design agency Dinamo. How did this collaboration come about? And what can people expect from the workshop?
Our collaboration with Dinamo came about during an initial discussion with the co-curators of the show, Damian Fopp and Dr. Katherina Weikl. I was very keen to see a Basel-based type design group use the Being Kit in an inspiring way. Dinamo is active in a niche, growing field of typography called Variable Font, where the form of each alphabet can morph digitally into any other. This is already a highly skilled exercise in form and legibility; when the constraints of kinematics are added, it becomes a massive challenge that might not be apparent to the untrained eye. Our successful, ongoing experiments with Dinamo (with inputs from linguistics science by Dr. Karina Frick, UZH) form the basis of the workshop; essentially, it's a single robotic character design expressing living emotions.
Do I need to have any previous knowledge to participate? Are there any requirements for attending the workshop?
There are none. The whole idea is to tap into the native, universal language of involuntary motion and response that is embedded in our bodies (and minds!) and helps us make subliminal judgments about the state of another being, whether human or animal. Our kit encourages the exploration of this nonverbal communication through physical gestures. Participants simply need to be reasonably comfortable with building things and DIY projects, and to be able to use a computer for routine tasks. PATHOS is built for low levels of technology literacy.
Thank you, Aparna for your time and insights. We are very much looking forward to the exhibition and the workshop.
The exhibition runs until June 6, 2022 at the Museum für Gestaltung Zürich.
For more information: Museum für Gestaltung, Planet Digital