Wyss Zurich Annual Event 2018
06-11-2018 – This year's Wyss Zurich Annual Event, held on November 6, 2018, was quickly booked to capacity after the word spread that former U.S. Vice President and climate advocate Al Gore had agreed to be its keynote speaker.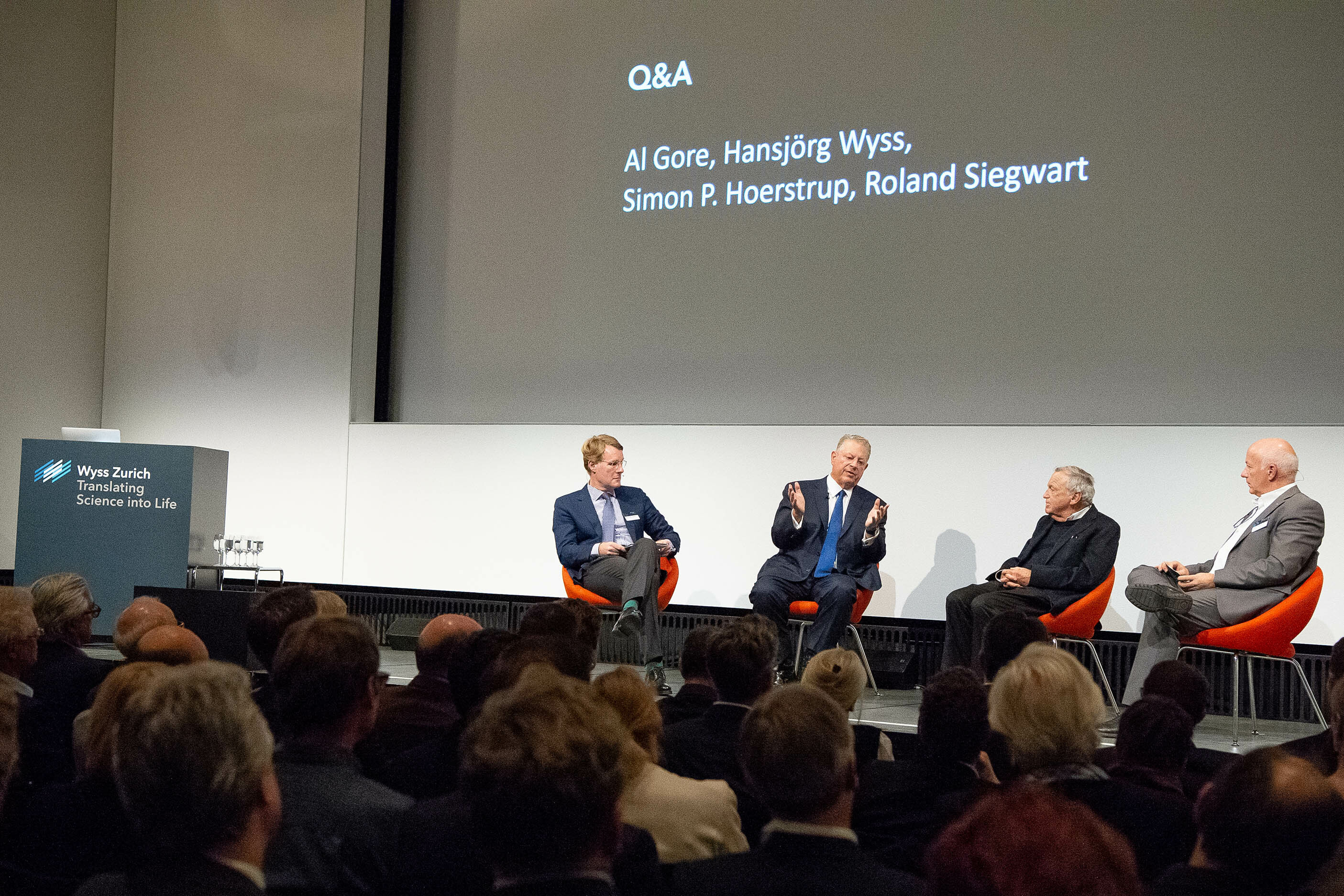 At that event, he joined some 300 invited guests from the academic, policy and business sectors in learning about the work of the startup accelerator Wyss Zurich, which is jointly operated by ETH Zurich and the University of Zurich, and its ongoing projects.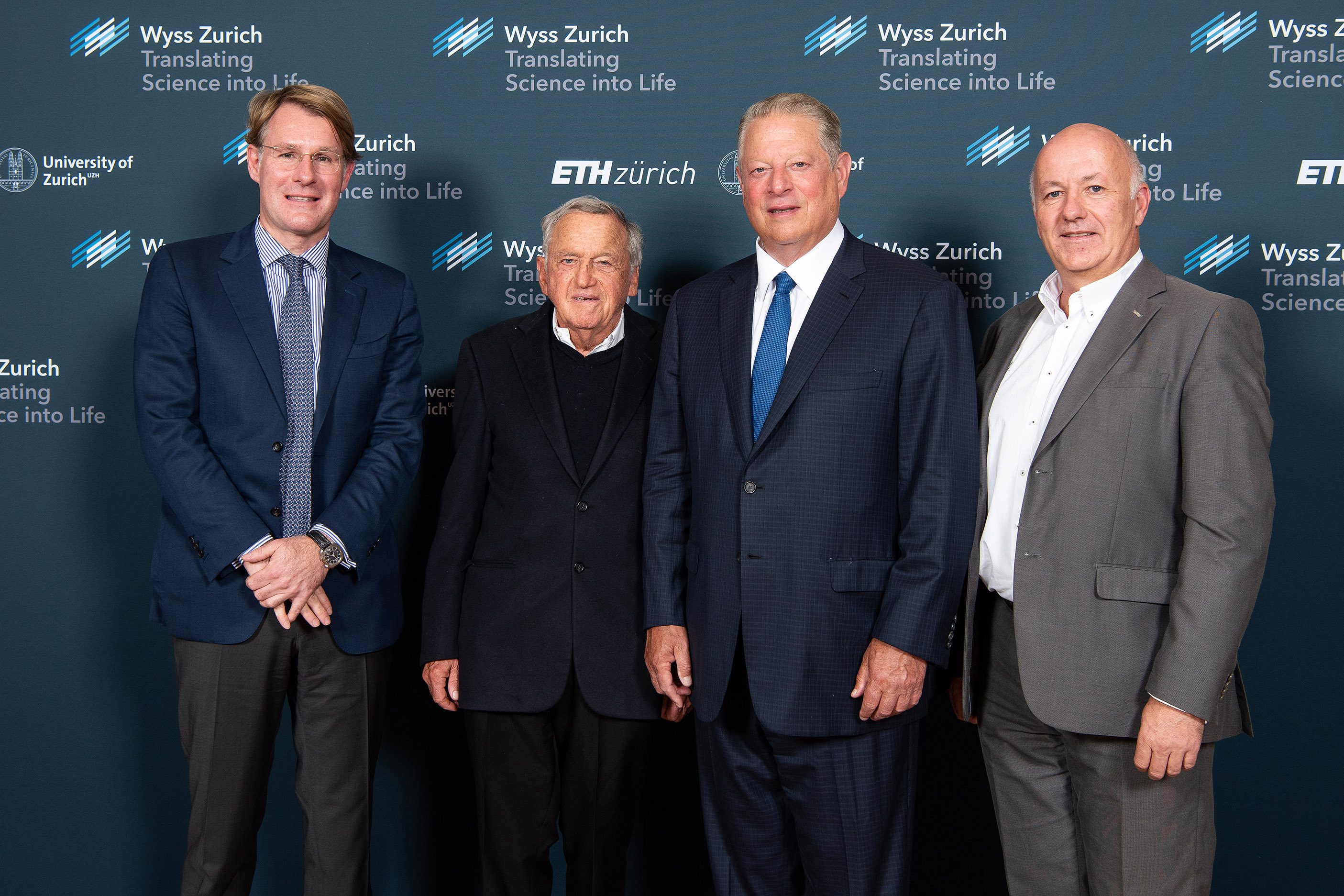 In her welcoming remarks, Dr. Silvia Steiner, head of the Department of Education for the canton of Zurich, noted that Wyss Zurich and the canton are an excellent match. With two outstanding universities – ETH Zurich and the University of Zurich – the canton of Zurich has become a leading site for first-rate research as well as a hub for startup activities. Jointly operated by the two universities, Wyss Zurich very successfully brings these two areas together.
It all began with a sketch on a paper napkin
Founding Co-Director Simon P. Hoerstrup recounted how the idea of Wyss Zurich was born. "It all began some years ago with a drawing on a paper napkin, as Hansjörg Wyss and I were at an airport and thinking about how to improve the existing academic value stream," he explained. Unfortunately, it is still true that in many cases good ideas are not pursued. And even when some entrepreneurial researchers create a spin-off and start looking for investors, success is often elusive, owing to a mismatch of the expectations of investors and inventors and a lack of the necessary infrastructure and financial support.
This is where Wyss Zurich comes in, by making the necessary resources available. First, it provides two outstanding university-based platforms, where production can take place under industrial conditions in an academic environment. There are cleanrooms, for example, for the development of med tech or pharmaceutical devices and prototypes. Second, it offers substantial financial support so that projects can achieve their objectives, and this attracts other investors.
Founding Co-Director Roland Siegwart described the successes Wyss Zurich has achieved so far: "We currently have 14 active projects at Wyss Zurich, 5 of which are already in clinical trials or about to start them. Two other projects have been successfully completed and are now active worldwide".
Siegwart described a special advantage of Wyss Zurich: "Approximately half of our projects involve the expertise and merging of two disciplines and platforms – regenerative medicine technologies and robotics. This is a unique model that is not available to startups anywhere else."
Inspired by Wyss Zurich
Al Gore was impressed by Wyss Zurich and its diverse projects. "I am inspired by what Wyss Zurich has already accomplished," he said. "And I am particularly inspired by the ideas and visions of these young women and men who are now able to have the resources, and the knowledge, and the assets that they need to more quickly translate basic discoveries into useful technologies and products, and new innovations to make lives better."
In his eloquent keynote speech titled 'The Climate Crisis and its Solutions', the Nobel Peace Prize winner warned of extreme climate events – more frequent disastrous flooding in Europe, more extreme temperatures, and megastorms that are no longer a rarity. The number of hot days will continue to rise, even in Zurich. However, he also voiced hope, noting that science has made far more progress than anticipated. In Switzerland, too, the universities are generating very promising ideas. It is enormously important that investors like Hansjörg Wyss are serving as a good example. In early November, Hansjörg Wyss donated a billion dollars to the cause of environmental protection – to preserve land and marine areas, improve air quality and safeguard clean drinking water.
And what does initiator and donor Hansjörg Wyss think about the progress Wyss Zurich has made during the past three and a half years? In his words: "If you were in the auditorium tonight, you were able to see for yourself the fantastic progress that this wonderful organization has achieved."